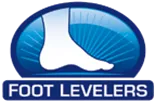 Foot Levelers orthotics are a great way to help with pronation, fallen arches, foot, knee, hip or low back pain. By supporting all three arches in the foot, custom orthotics can help provide a level, balanced foundation, thereby taking stress off all of these other parts of the body. Foot Levelers custom foot orthotics also cushion your feet, provide comfort and evenly distribute your body weight to eliminate pressure on your feet and ankles.
How Do Orthotics Work?
Custom foot orthotics are specially-­made devices that either fit inside or are built into your shoes. Foot Levelers now even offers custom flip-flops, casual shoes, tennis shoes, outdoor hiking shoes and dress shoes from shoemakers like Olukai, Brooks, New Balance, Merrell and Keen--with the orthotics built right into the shoe! No matter what you do, there are some great choices for you! Custom orthotics match the contours of your feet precisely, and are designed for the way you move.
Orthotics can help anyone with discomfort related to walking or running. A tremendous benefit of custom orthotics is that they can be worn on a daily basis and utilized in your normal daily activities.
How Are They Customized To My Feet?
When you arrive to our office, a 3-D digital foot scan, utilizing computer technology, will be performed on your feet to determine the exact pronation index, weight imbalance and arch height difference between your left and right feet. Your left foot may even be different from your right! Dr. Crews will discuss the findings of your scan with you, and, if orthotics are recommended, you will choose the type of orthotics that best suits your needs and wants, as there are many options to choose from. Once your decision is made, your scans will then be sent electronically to Foot Levelers to be crafted. Upon completion, your orthotics will be shipped to our office and we will contact you when they arrive. Dr. Crews will want to meet with you and make sure the orthotics are a good fit, and to give you some special instructions, along with some exercises to perform at home. From placing your order to arrival, it usually take about 7-10 days.
How Long Do They Last?
Custom orthotics are a specific prescription and last well over a year in most cases. However, it is important to understand, that just like taking care of your teeth, or if you wear prescription eyewear, you will need to have regular "check-ups" to make sure that your orthotics are supporting your feet and ankles as they should. If you are not already seeing Dr. Crews for chiropractic maintenance care, then it recommended that you have your orthotics checked annually, or in the event of an injury, pregnancy or weight changes.
How Are These Different From "Off-The-Shelf" Shoe Inserts?
While over­-the-­counter shoe inserts are available at most drugstores, they lack the custom­-built precision of a prescription orthotic that is unique to you. The 'one­-size-­fits­-all' inserts rarely match your feet well, or provide the customized support you need to help with your aches and pains.
Interested in incorporating orthotics into your treatment plan? Contact Dr. Crews today and schedule an appointment to discuss how custom orthotics might ease your discomfort. Or, for more information about Foot Levelers, check out www.footlevelers.com.