One moment everything may seem fine, when suddenly you're involved in a serious collision. Most people have one thing on their mind after a car accident--their car! Just remember that it's only metal and your health is much more important, so having your injuries checked out should come first. A visit to a chiropractor should always follow an auto injury, as chiropractors are specialists in damage to soft and hard tissue.

How Can a Chiropractor Help Me After My Auto Accident?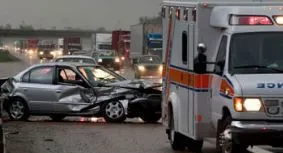 Your need for an auto injury chiropractor may be all too evident very shortly after you have an auto accident. Dr. Rodney Crews of Crews Chiropractic in Shreveport, LA provides the help you need to get past the whiplash and any other injuries that may result from your auto accident.
Spinal adjustment
The force of an auto accident can cause misalignment to happen in the spine. Often, the pain of whiplash is in the neck, which takes the brunt of it. Your auto injury chiropractor will give you a complete evaluation before recommending the correct treatment. All treatments are personalized to the patient. Many different spinal adjustment techniques are available, from gentle to vigorous, and one or more will be right for you.
Extremity adjustments
After an auto accident, it may be your upper back and the upper extremities that are painful. A seatbelt can save your life, but may also cause damage to your shoulder and this complex joint has many moving parts that could need to be realigned. The muscles and connective tissue in the area may also have been injured and need to be treated.
Spinal decompression
When you have an auto injury it can involve the discs in your back. If one of them has become herniated or is bulging, it may be pressing on the nerves that surround the spine. It can be a very painful condition. Spinal decompression is a way to relieve the pressure on the discs. Decompression uses a computerized program to help to stretch the spine and increase the space between the vertebrae.
Myofascial release
Myofascial release is a treatment that uses something similar to massage to remove the knots in the fascia, which is the tough tissue that surrounds the muscles. It stretches the tissue to release the painful adhesions and scar tissue that can cause pain all over the body wherever there are muscles.
Hydromassage
If your auto accident causes you stress on your body or your mind, a hydromassage is a perfect way to get you so relaxed you may end up falling asleep. Hydromassage is done fully clothed on a bed that provides massage with water. You can control the amount of massage pressure and the areas that are given the massage. If you are hurting, this is a great way to get rid of some of the tension.
Why wait? Contact Dr. Crews of Crews Chiropractic in Shreveport, LA as soon after your auto accident as possible. An auto injury chiropractor can help with your recovery and your pain. Give our office a call at 318-220-7688 or via our website.