To build this type of practice, I knew that my first and perhaps most important task was to build good, lasting relationships with my patients. Far too often, doctors get in too big of a hurry and don't spend time doing this very important step. To me, this makes the patient feel less important and more like a number. You won't get that feeling in my office.

In my opinion, healing cannot begin to occur until there is a level of trust and commonality between the doctor and the patient. Spending time with them, listening to them talk about their current health situation (or other environmental stressors) is vital in being able to not only treat the symptoms, but truly diagnose and address the cause(s) of the problem.
"In my clinic, I do my very best to offer a different experience than what a patient might have experienced elsewhere. I'm a believer and I do what I do because this is where God intended me to be. You may enter as a stranger, but you'll leave as a friend and be treated like family."



I promise to give you my best effort to return you to full health—but if your condition is beyond the scope of chiropractic, I'll be sure to refer you to the appropriate specialist who can help you to be fully restored. In that situation, I would still feel blessed to have taken part in helping the patient get the kind of care that is needed."
---
An Open-Door Policy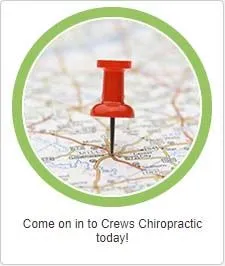 When Dr. Crews opened Crews Chiropractic he immediately had an open-door policy with his patients; he wants and encourages the doctor-patient conversation. "In my practice I really take the time to sit and go over everything that is going on with my patients' lives and what brought them into the practice that day."Although the practice began primarily as an accident and injury clinic, today, we see a wider variety of patients. These include pediatric, geriatric, pregnant, sports injury and wellness/maintenance patients.Dr. Crews is also certified in the Webster Technique and has helped pregnant patients with breech presentation of the unborn baby avoid having C-sections. *While this technique does not guarantee a correction of breech presentation of an unborn baby, it is a specialized technique designed to detect spinal mis-alignments, taut and imbalanced musculo-ligamentous attachments in pregnant mothers. Restoring proper alignment and balance, in the mother's body promotes improved nervous system function and reduces musculo-skeletal stress. And, less stress and improved function is something that every expecting mother would like to have!